So today i am feeling the burn from my Ministry of Sound workout DVD...everytime i got up to walk to the printer I had to hobble!
Been relatively good today in terms of healthy eating...porridge for breakfast which i've started up since before Christmas. This is supposed to be really good for you - I tried original porridge and in all honesty I really didnt like it, no matter how good it's meant to be for you! Then I discovered flavoured porridge - Cinammon is my favourite! - you can get it in individual pouches which are great for portion control. If you have a microwave at work, definitely worth taking it in with you to eat first thing at your desk if you don't have time for breakfast before you leave. If you don't, it only takes a couple of mins in the microwave :)
For lunch I took in a tin of good old Heinz raviolli (stole it from my parents cupboard..trying to be budget and stop buying expensive lunches in London!!) I also took in a bar of Lindt Lindor 70% cocoa dark chocolate - after lunch I ALWAYS want to eat chocolate (Cadburys Snack Bars are my downfall, damn you canteen vending machine) so I figured if i must eat chocolate, it's better to go dark.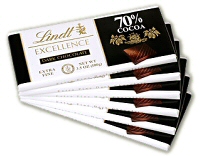 For dinner, my mum made chicken and vegetable soup. Nice and healthy. Then I went and blew it by having a melt in the middle chocolate pudding...d'oh.
The thing I always think with healthy eating is to stick to under 2000 calories per day. This is the guideline calorie intake for women, so by staying under and combining this with exercise, you're bound to see results and stay in shape, no need for silly extreme diets.